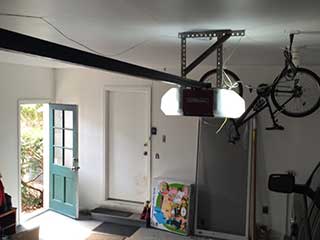 Over time, your automatic garage door will begin to develop some issues, and if they aren't addressed early on, they'll turn into major problems. Those will be more difficult and expensive to repair, so in order to save money, as well as avoid potentially dangerous malfunctions, you should get your door properly maintained. Our experienced technicians specialize in performing various adjustment and realignment tasks that can guarantee that your overhead door is able to reach its full potential.
Regular Spring Maintenance Appointments
Since the springs are such an invaluable part of the system, making sure they are in the best possible condition is incredibly important. During our service appointments, our team will inspect the condition of these crucial components, lubricate their coils to ensure their efficiency and make sure their tension is well adjusted and that they aren't overstraining. This will reduce their wear and tear accumulation, and help them last longer.
Finding And Preventing Track Problems
Our technicians are highly experienced with the wide array of different overhead door systems, and will quickly identify and fix any potential problem areas. The tracks are another key focus point of ours, as they guide the door's movement, and can cause it to get stuck or collapse if something is wrong. Our technicians will examine them for any bending or rust, and we'll make sure they are well fastened and aligned. If we find evidence of any damage, we'll either fix it on the spot, or replace the entire track, depending on the severity of the problem.
Testing And Checking The Sensors
Your opener safety sensors play a vital role in ensuring the safety of anyone who uses the door. That's why our technicians will also make sure they are properly aligned and that the door does in fact reverse when an obstacle is blocking its path. If the sensors need to be repositioned, you count on us to perform this delicate task right away.
Contact Us Today
Our technicians at Garage Door Repair Pasadena are ready to provide you with the peace of mind that professional maintenance offers. To schedule an appointment, simply give us a call.
Looking for more? We also offer:
Extension Spring Adjustment
Emergency Garage Door Repairs
Screw Drive Opener Replacement
Garage Door Opener Maintenance